Summer is just around the corner, which means that everyone will be heading towards the beach. Whether you plan a big family outing to the local beach, a tropical getaway with your friends, or just hangout in the backyard with a hose, there's no reason why beach life can't become your summer life.
As you enjoy your time at the beach, one thing that makes it even more enjoyable is a beach drink. Beach drinks are refreshing, full of flavor, and a perfect addition to an already enjoyable day playing in the surf and sun. In this blog, we'll help you learn how to craft the perfect drinks for your beach trip and enjoy every moment of your beachy days.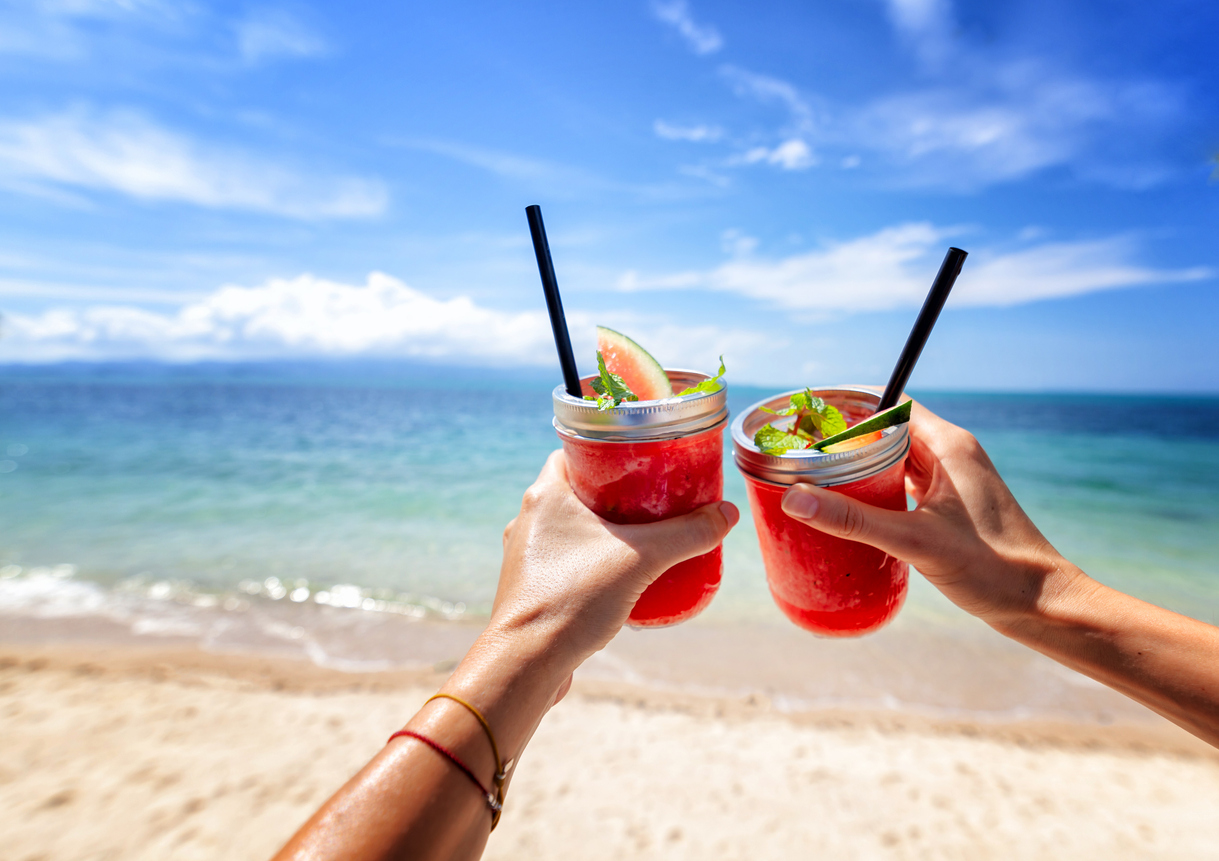 Best Beach Drinks
Beach drinks stand out from other types of drinks for many reasons. Traditional beach drinks are bright, colorful, and served with garnishes like tiny umbrellas and fruit slices. They are typically sweeter than traditional drinks, and utilize summer flavors and bright, acidic bursts from tropical fruits. They are also often frozen or put over ice to help cool you down as you sit under the sun.
A beach drink can be enjoyed no matter where you are, from while you are out dancing all night to sitting by the water with a good book. What really makes a beach drink special is the memories that you create while drinking it. And, of course, the delicious flavors that make it unique.
Nectar of the Vine Mixes
Nectar of the Vine has crafted some mixes that will recreate your favorite beach drinks already. Check out our selection of delicious wine slushy mixes that are perfect for enjoying that beach life that we all desire. These are some of our classic summer flavors that transform a bland beach day into an exciting beach experience.
Beach Drinks You Can Make with Nectar of the Vine Mixes
In addition to the already crafted Nectar of the Vine drinks, you can also enjoy your summer sun with these beach drink recipes. Using Nectar of the Vine and a few other classic cocktail ingredients, you can craft the perfect frozen cocktail to help keep you refreshed and relaxed on your beach vacation. Even add a fresh fruit garnish to your frozen cocktails. These are sure to please and impress for any beach trip!
Frozen Mai Tai - This classic beach rum drink is made using blood orange mix to sub for the traditional orange curaçao. It's a perfect choice for sipping on a hot summer day, with its sweet and tangy flavors and frosty texture. All you need is your favorite rum, some water and our Blood Orange Mix.
Frozen Tequila Sunrise - Enjoy this popular drink any time of day using our Blood Orange Mix. Our flavored mix makes creating this frozen beachy drink easy. All you need is some tequila, water and your preferred amount of grenadine syrup.
Frozen Cape Codder Cocktail - What's more beachy than this Cape Cod inspired drink using Cranberry Acai Mix? No need to bring your own cranberry juice, all you need to create this delicious cocktail is some lime vodka, water and our all natural cranberry acai frappe mix.
Frozen Sex on the Beach - If it has a beach in the name, it has to be a beach drink! This recipe calls for our Cranberry Acai Mix, some vodka, peach schnapps and some orange juice. Enjoy our version of this classic vacation drink.
Frozen Lemonade - Take summer's favorite drink a step further using Lemon Burst Mix. Take your favorite vodka (or flavored vodka for a fun twist. Our secret ingredient is strawberry vodka!), some water and our Lemon Burst Frappe Mix.
Ginger Mojito - Use fresh lime, a liquor of your choice, fresh mint, and our Ginger Limeade Mix for this classic beach drink. Enjoy this light and refreshing tropical cocktail that complements the laid-back and tropical vibe of beach life.
Frozen Rum and Coke or Whiskey Coke - If fruit flavors aren't calling your name, try this classic rum cocktail using Natural Cola Mix. Take a liquor of your choice, we recommend Jack Daniels whiskey or your favorite rum, some water and our natural cola mix! Cool off at the beach with a frozen cola cocktail.
Beach Drinking Games
Pair your favorite wine slushie or beach cocktail with a game to make any beach vacation a blast! These drinking games are a great way to make your day even more fun under the sun and add some friendly competition to your beach drinks.
Games with Equipment
If you're vacationing at a resort or location where you have access to equipment, these drinking games are great!
Corn Hole
Corn hole is a classic game where you toss bean bags onto a board with a hole cut out. You can turn it into a drinking game by having teams drink when they lose the round, or have each individual take a sip when they miss their toss. Corn hole games are inexpensive to buy at local toy stores, and can be family favorites for any beach day.
Bucket Ball
Bucket ball is another traditional drinking game where teams toss small balls into a pyramid of cups set up on a table. This game, while a classic at college parties, can also be played at the beach when the sun is up or long after it has set.
Card Games
If you have a deck of cards, you have endless opportunities for drinking games. Everything from Go Fish to more complicated games like Kings, where each card has an action the group must take, can help turn your night into a fun and engaging drinking activity.
Games with No Equipment
Even if you don't have equipment with you, there's plenty of fun drinking games you can play to make your beach vacation even more entertaining.
Quarters
Technically, quarters might count as equipment. But we bet you have some standing by to play this classic drinking game. Simply work to bounce quarters off the table and land in a specific location, and drink if you miss!
The Name Game
This fun memory game will have all your drinking adults wracking their heads to think of answers! While sitting in a circle, have the first person say the name of someone famous. The next person needs to say another famous name that ends with the last letter of the previous name. If they can't think, they drink! You can also play a variation of the game to name objects in a category.
Most Likely
This game allows you to play with the information you know about your fellow drinkers. While sitting in a group, ask a question about who is most likely to do something (ie. most likely to forget their passport at home or most likely to wake up first in the morning). The group then points to who they think is "most likely". The winners have to drink!
Why Nectar of the Vine?
Beach drinks are made easy with Nectar of the Vine drink mixes. Don't worry about tracking down a blender or lugging around big cases of pre-made drinks. Or even better, pack your favorite wine slushies into our reusable pouches. They are perfect bags to make ahead of time and throw in the cooler when heading to the beach. Our frozen drink mixes make crafting the perfect beach drink as easy as lying out in the sun. And our products use only natural flavors with no artificial ingredients or dyes and last up to 2 weeks after being made. Have frozen cocktails for your entire beach vacation with our mixes so you can enjoy more of the warm weather! To learn more and get your Nectar of the Vine drink mixes before your next beach vacation, visit us online and place your order.